Tuesday, 12 September 2017 14:44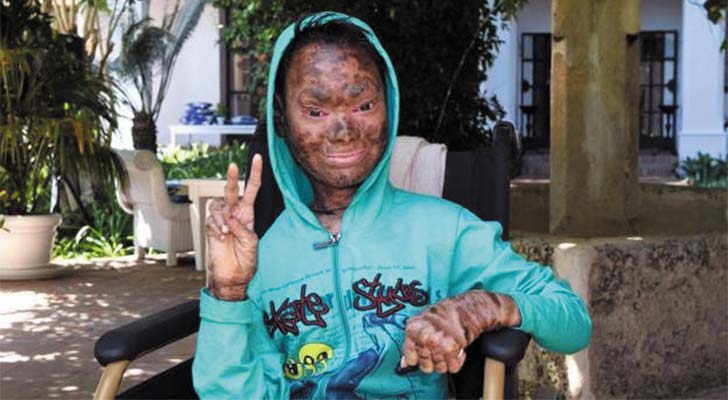 Shalini Yadav thanks to social networking found a string of favors for your health.
The small Shalini Yadav molt their skin every 45 days for about 16 years. A sort of curse genetics prevents him from leading a life of your own age in Chhatarpur, a town to the north of the State of Madhya Pradesh in India.
There is not, and even if he had could not afford it, an effective treatment that will cure the effects of a devastating disease that causes in your country be known as «the girl snake» because her skin has a huge amount of black scales.
When entering for the first time in the gardens of the Marbella Club, your smile gives you away. Despite feeling overwhelmed by the constant transfer that surrounds him since he arrived in Spain a couple of days ago, faces with excitement for their future. Restless in his small wheelchair, fixed in some, in others with an innocent look that gets through.
To hear his story in the voice of the journalist Paco Rego, there is no doubt that Shalini is one of those fights in which the easy route is to give up. However, when his family gave up everything for lost, Rego became the past month of February in your guardian angel.
After knowing their situation, through the eyes of the journalist Sanjay Pandey, did not hesitate to set a goal that already at that time appeared complicated. Get Shalini to travel to Spain to be treated by the best specialists in the country. «I felt the need, the duty to help a girl whose situation worsened with the passing of the days», has visibly moved. «Journalism is for.»
For this, Sanjay Pandey, fought for months, saw close a lot of doors and, in the end, managed to make contact with the International Medical Academy of Marbella, an association founded the same year that brings together some of the most important doctors of the Costa del Sol in order to help in the research on prevention and treatment of diseases, contributing to the development of the health sector in the city.
Maria Angeles Rabadán has been during all this time his intermediary. «I have been months without work, dedicated to the cause, calling one another», stresses convinced that for the small Shalini any help is little.
The chain of favors to materialize and after a few days, the neurologist Miguel Ángel Arráez, president of the academy, gathered a group of specialists whose mission would be to shed light on the rare disease of the small in order that it can receive a treatment that will return it to life.
«We could not give back to something so very far away that was. We all feel the need of help from the principle, whatever that entailed», clarifies Arráez.
Since then and until now, Shalini and her family have been engaged in a long bureaucratic process to get the child to travel from New Delhi to Madrid, by plane, and from there to Malaga. «We have put all the possible barriers to prevent the sacásemos of there. We have not had institutional co-operation», clarifies Rego. «Shalini did not want to live up to that knew of our intentions.»
From the age of five, the child had to leave school, disowned by their environment. «You see the life pass by from his window without hardly leaving the house. In your neighbourhood do not understand what is happening and refuse to approach her. It's hard to imagine a suffering so hard and long».
Upon your arrival to Malaga, and after being previously diagnosed through photographs, the dermatologist Enrique Herrera, head of service at the Clinical Hospital of Malaga and one of the 19 doctors that have offered to deal with it, defines with certainty your case: «Shalini has ichthyosis lamellar, a disease that is not contagious and for that still has not found a cure since it is a condition is rare», he says. «It is a disorder of the metabolic process of keratinization that is acquired from birth.»
To get here, along with his father, the little took the hand of Vanesa Gil, an instructor of flight personnel, who also wanted to join this long chain of solidarity and to accompany it during the ten hours which lengthened the flight, taking care of your skin is not resecara and break in that would be the first time that both she and her parent were going out of India. This last does not lose of sight in no time. Pleased, but stunned still by the wave of solidarity that they receive from that Spain knew of his case. For doctors not to have more than words of gratitude.
Already in the city, Shalini will be submitted during the next few days a large number of medical tests to determine with accuracy the extent of their disease and to find optimal treatment for your recovery.
The Pharmaceutical Cantabria, based in Santander, offered selflessly to afford the medication of the child for at least a year, with the intention of keeping it for life. «How we were going to deny something like that,» says his representative. «A treatment of these features does not exceed 40 euros per month, something for your family supposed a fortune because the salary that comes into your house is quite inferior.» So far, the only thing that was helping the small was to take long baths in the water with a home remedy that is barely relieved his pain.
In the spirit of the medical team, is that the small to continue in Spain at least during a time to make a follow up and to observe its evolution. «We will follow where you go», explains dr Herrera.
«Thanks to this care, Shalini will improve your mobility and gain in quality of life.» The struggle of the small Shalini is a sample of how the networks connecting the ends of the world. It is a miracle come true,» concludes the journalist Paco Rego, subtracting from the merit of his feat.
Shalini rises back to the van with a clear purpose which is to recover as soon as possible to be able, finally, to be happy.
Source: http://epmundo.com/2017/medicos-espanoles-tienden-la-mano-a-shalini-la-nina-serpiente/
---
---
---
Most read today
Most-read in the week
var url = 'http://www.contextotucuman.com/mas_leidas_ajax.php'; mas_leidas('dia'); mas_leidas('sem'); function mas_leidas(tipo){ data = {tipo:tipo}; $.post(url,data,function(data){ //console.log(data); $('.loader-'+tipo).fadeOut(); data = jQuery.parseJSON(data); for(i=0;i<data.length;i++){ html = '
'+(i+1)+'
'+data[i].titulo+'
'; $('.notas-'+tipo).append(html); } }); }
WEB PAGE MARBELLA TAROT MARBELLA