Offer Trade show to travel agents and expose the brand Colima.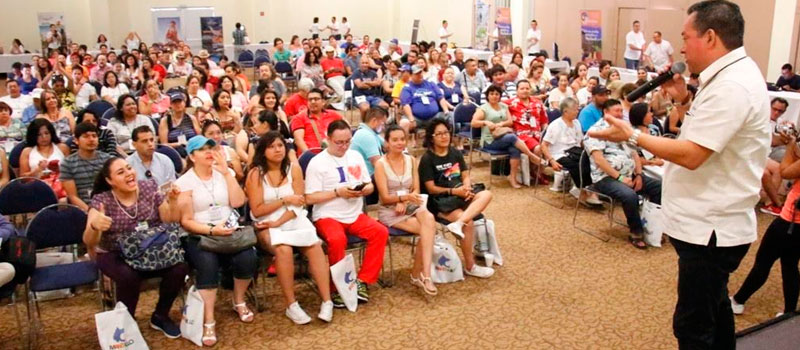 During the third day of activities of the 4th. "Live! Manzanillo 2017", the ministry of Tourism in coordination with the Trust for Tourist Promotion, as well as with entrepreneurs in the tourism sector, carried out with great success the Exhibition (Trade Show), where the travel agents from different states met to detail the destination and the brand Colima.
In the event held in the Event Hall of the Hotel Marbella, brought together more than 200 travel agents who visit the institution to see first hand the new offer and tourist experience that provide hoteliers, as well as providers of services in Manzanillo.
In this seminar, which was taught by the director of the Trust for the Promotion of Tourism of Colima, Enrique Aguirre Martinez, it was also a unique setting that created the opportunity to do business, because it opened new windows of possibilities, and even now, began to close deals and reservations at special events for groups of different states of the country.
During the exhibition, Aguirre Martínez urged the travel agents to recommend the destination Manzanillo, as it is being renovated and has an enhanced gastronomic offer, night life, extreme activities, in addition to the indicators mentioned-, show that the occupation is on the rise, which in turn brings more investment and more development in terms of tourism for the state.
"This event is a bet for you, we want to live something different, so we have organized different activities only to the travel agents, we want you to recommend us with your customers, tell them what you lived over here so we can replicate it and together make a team," he said.
In this sense, the director of the Trust for the Promotion of Tourism of Colima added that the hoteliers are working on the renovation of their properties with a significant investment, they are also investing in training, leadership in the target, which generates a different destination.
After making a tour of the attractions and tourist services that are provided throughout the state of Colima, as well as the connectivity that has the entity, stressed the recent events that have taken place in the state, "events that have developed since the beginning of the administration of Ignacio Peralta Sánchez, which before were not performed," he said.
Finally, Enrique Aguirre made known to the travel agents the new projects and investments that will have on the entity with which it will be bringing the tourism offer in the entity to be able to consolidate to the destination as one of the leading and most important of the Mexican Pacific coast and of the country, he concluded.
WEB PAGE MARBELLA TAROT MARBELLA